Enterprises struggling with rapidly growing data centre storage capacities need to find new ways to energise their data protection strategies.
If backup and restore performance can't keep up with these demands then their disaster recovery plans and service level agreements are unachievable.
ExaGrid offers an ideal solution as its Tiered Backup Storage family of EX appliances delivers a smart backup and data recovery solution with a sharp focus on performance. The unique architecture allows it to scale out easily as storage capacities increase without impacting backup and recovery speeds.
Tiered Backup Storage is superior to competing solutions which use a single intelligent controller head unit and dumb disk expansion shelves. Each EX appliance within a scale-out site is a complete system with its own storage, CPU, memory and networking so compute power and network bandwidth increase in step with capacity.
Even more compelling is ExaGrid's data deduplication technology. It's well known that standard inline data reduction techniques hit backup and restore performance hard, but ExaGrid's patented Landing Zone feature with Adaptive Deduplication avoids all these problems.
Data received from the backup application is written directly to a disk cache in undeduplicated format. As backups complete, the data in the Landing Zone is 'tiered' and written to a separate long-term retention repository where it is compressed and deduplicated. This process happens in parallel with the backups running but not inline in order to avoid a performance impact.
This process has no impact on performance and as copies of the most recent backups are retained in the Landing Zone, most restore operations are much faster, as data doesn't need rehydration and decompression. Data security is also enhanced as while the Landing Zone is network facing, the repository has a tiered air gap between the network-facing Landing Zone and the non-network-facing retention repository and therefore is only visible to the ExaGrid software.
This tiered air gap really comes into its own with ExaGrid's new Retention Time-Lock feature, which provides a solid defence mechanism against ransomware attacks. It's a simple yet elegant solution as it delays any delete requests to the offline repository that come into the Landing Zone via the user network or backup app.
Delete requests will be carried out in the Landing Zone but once a time-lock period has been applied, they will have no impact on the retention repository. The period defaults to 10 days but can be as long as 30 days and at the default setting ExaGrid states it will only result in a 10% increase in capacity requirements. This delayed delete setting is separate from the system's backup retention policy that can be any number of days, weeks, months and years.
If a ransomware attack gains control of the backup software, the hacker could conceivably delete all backups with a single PowerShell command. Using delete request thresholds, the ExaGrid system issues warnings and if an attack is detected, administrators can respond immediately by suspending all further share access and taking them offline.
Should an attack succeed in encrypting data, ExaGrid has immutable data objects that are not modified or overwritten so all previous retention does not change. It's a simple process to recover it as you browse the repository to find the latest unencrypted backup. Even the Retention Time-Lock setting is protected from tampering as any changes to this must be verified by a user assigned the ExaGrid Security Officer role.
ExaGrid is highly flexible as a single scale-out system can comprise up to 32 appliances and you can mix any of the EX models together allowing you to tailor expansion to your budget and backup requirements. Existing customers needn't worry: all the older EX models from the previous range are supported so they can preserve their investment.
The latest EX family comprises seven models with the flagship EX84 on review offering a truly staggering storage potential. This 4U rackmount appliance presents a usable backup capacity of up to 168TB and when scaled out to 32 appliances, increases this to an industry-leading 5.37PB. The system can take in a 2.7PB full backup in the Landing Zone and can keep long-term retention in deduplicated form in the repository.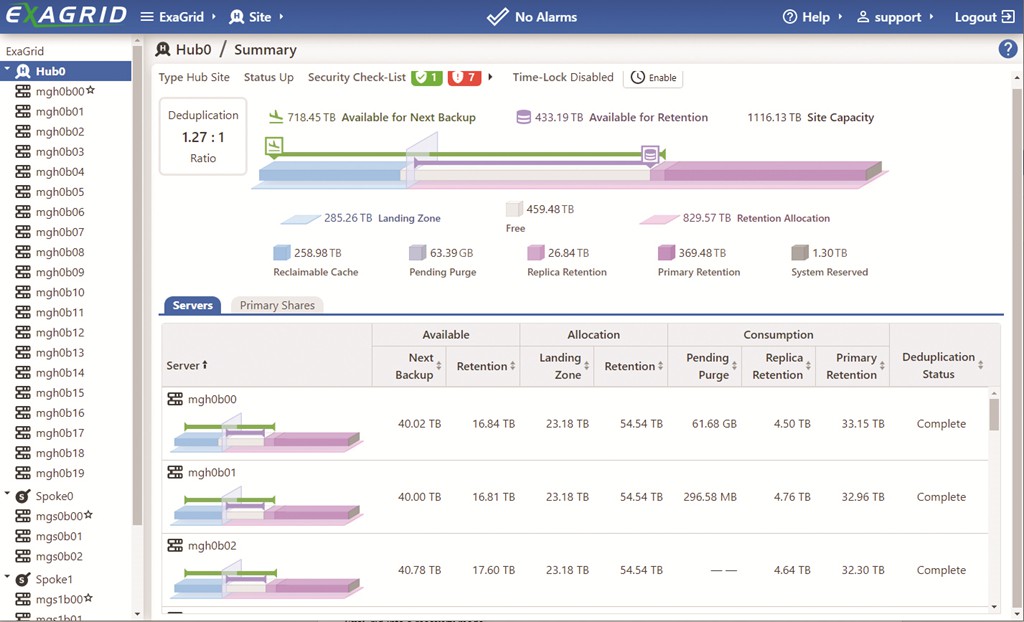 The EX84 serves its storage up on enterprise-class SAS hard disks configured in a RAID6 plus hot spare array. The appliance comes as standard with dual Gigabit and 10GbE data ports and upgrade options extend to 25GbE or 40GbE.
Deployment is swift as all appliances are 100% customer installable with ExaGrid claiming typical unboxing to implementation times of around one hour to three hours with initial backups occurring the same day. We can vouch for this as in previous tests, we confirmed that these times are easily achievable.
Appliances are grouped together in scale-out systems where ExaGrid uses a hub and spoke architecture. The hub is the central site while spoke sites provide off-site replication for disaster recovery. Adding new appliances to a system is equally painless as the site web console provides a wizard to guide you through this process. It's so easy to use that ExaGrid has been able to cover all customer support requests during the pandemic with web conference calls.
Having reviewed the previous EX appliances, we can safely say that ExaGrid's new web management console looks a lot smarter and is even easier to use. It lists all sites and servers in the left navigation pane and provides colour-coded status views of site capacities and free space plus Landing Zone and retention repository utilisation.
To configure a site Retention Time-Lock period you simply click on its icon in the dashboard and enter the value in days. The request is sent to the ExaGrid Security Officer where it appears in their console awaiting approval.
Storage is presented as CIFS, NFS, OST or Veeam Data Mover shares and creation is swift as for primary shares, you select a host appliance and choose your backup software. ExaGrid supports over 25 backup applications and utilities including Veeam, Commvault, Veritas NetBackup and Oracle RMAN Direct. It can also utilise higher-level functions such as Veritas OST, Oracle RMAN channels and Veeam Data Mover.
Restore features are equally impressive as the Landing Zone allows Veeam VMs to be booted in seconds to minutes as opposed to the hours that traditional inline solutions take due to only storing deduplicated data and needing to rehydrate the data for every request. ExaGrid is the only solution that reconstitutes a full NetBackup Accelerator backup in the appliance's Landing Zone to provide instant VM boots, fast offsite tape copies and quick data restore operations.
Access security is tight as ExaGrid integrates with Active Directory (AD) and also supports two-factor authentication (2FA). AD authentication can also be used for CIFS target share access control and the Veeam Data Mover.
Product: EX84 Supplier: ExaGrid Web site: www.exagrid.com Tel: +44 (0) 1189 497 051
---
VERDICT:
ExaGrid's Tiered Backup Storage is the ideal data protection solution for enterprises as its scale-out architecture teams up the highest capacities in the industry with the best performance. Its innovative Landing Zone avoids all the problems associated with legacy inline deduplication solutions and the new Retention Time-Lock feature provides essential ransomware protection. It's very easy to deploy and ExaGrid's price protection promise sweetens the deal even further. It guarantees ongoing maintenance costs won't be more than 3% per year and the price you pay for your first appliance will be the same for additional units over the following five years.
---