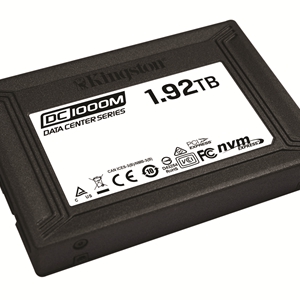 As data centre applications and workloads demand ever greater storage performance, enterprises are finding that NVMe SSDs are the only way to go.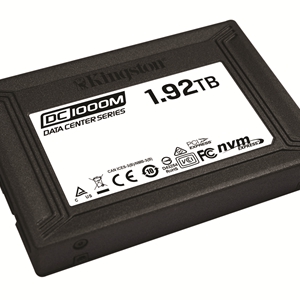 These high-performance devices are perfect for businesses running data-intensive workloads and those that need to replace legacy SATA or SAS SSD server storage and arrays as they deliver very high throughputs and low latency in a familiar form factor.
The Data Center DC1000M series of NVMe U.2 SSDs from Kingston offer a tempting proposition as they deliver a finely balanced combination of performance and value. Available in a choice of four capacities ranging from 960GB to 7.68TB, we reviewed Kingston's 1.92TB model which has a very affordable sub-£400 price.
The DC1000M series clearly shows Kingston's intentions as it has been moving firmly into the data centre storage space for some time. Combining these with its new DC1000B NVMe boot drive plus the DC450R and DC500 series of SATA SSDs allows it to offer one of the most comprehensive ranges of high-performance data centre storage solutions on the market.
The 1.92TB model looks fast on paper with Kingston quoting sequential read and write speeds of 3,100MB/sec and 2,600MB/sec. Along with low sub-1ms latencies, throughput looks good with it claiming rates for random read and write operations of 540,000 IOPS and 205,000 IOPS respectively.
These numbers make the DC1000M very versatile and ideal for mixed-use scenarios in the data centre. Typical applications Kingston is targeting range from HPC, OLTP and virtualisation to cloud services, web host caching and HD media capture.
The DC1000M employs the latest 3D TLC (triple level cell) NAND flash technology. This is far superior to older 2D NAND as it allows the cells to be stacked in layers thus enabling much higher storage densities with a lower cost per bit and reduced power consumption.
Other key features that will appeal to enterprises are hot-plug support and SMART monitoring for tracking reliability, usage, remaining life, wear levelling and operational temperatures. The DC1000M also incorporates onboard power loss protection (PLP) through capacitors and firmware to avoid potential data loss caused by power failures.
For performance testing, we used the lab's Dell PowerEdge T640 tower server equipped with dual 22-core 2.1GHz Xeon Scalable Gold 6152 CPUs plus 384GB of DDR4 memory and running Windows Server 2019. Our server has an eight-bay PCI-e NVMe Gen 3 U.2 cage and we had no problems fitting the DC1000M in the server's hot-plug carrier where it was correctly recognised by the OS as a new NVMe bus storage device.
We used a range of benchmarking apps starting with Iometer which reported raw sequential read and write rates of 3,070MB/sec and 2,663MB/sec. The read rate is slightly below the claimed speed while the write rate is marginally better and the CrystalDiskMark app agreed closely with these numbers.
For random read and write rates, Iometer returned 2,990MB/sec and 1,600MB/sec. Changing Iometer to small 4K block sizes, we ran our tests for a number of hours until they had achieved a steady state.
Once throughput had settled, we recorded random read and write rates of 486,900 IOPS and 225,100 IOPS. As with our sequential tests, read throughput was slightly below the quoted number whereas write rates were a little higher. Overall, these performance results are great and latency is also very low as during our I/O throughout tests, both Iometer and the AS SSD Benchmark app reported average latencies of less than 1ms.
Product: Data Center DC1000M Supplier: Kingston Technology Web site: www.kingston.com Tel: +44 (0) 1932 738888 Price: 1.92TB - £377 exc VAT